These Easy Folded Fabric Basket look so handy!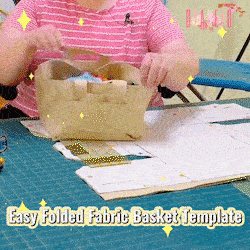 They would be great drawer liners when on holiday. Pick them out of the drawer and straight into the suitcase 😁👍
This would be a great idea for a picnic blanket-sized fold basket for travel. Or you can use it as a collapsible storage basket. You could put a bunch of the stuff you want to take out & just unfold it at your spot.
You could use leather or that really stiff Pellon to make it sturdy and permanent.
I love this idea to make baskets easily by cutting and folding, and of course, we can use any thick material such as felt, plastic, leather, or even quilts to make this DIY basket project.
Really a creative design that most of us crafters will love to try.
2. In the pop-up window, click on the location on the image below.
3. Choose your bank country.
4. Now you can use credit cards to pay.
5.Last Tip:
Do you want to use this credit card to create a PayPal account?
According to your needs, choose yes or no.

6.Successful payment.